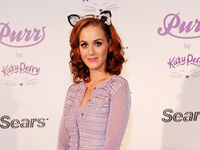 Love Saturday Night Live? Love Katy Perry? Whether it's the former or the latter, you're in luck. It's confirmed that Katy Perry will be hosting the December 10 episode of Saturday Night Live with musical guest Robyn! Katy Perry recently tweeted, "I'm SO excited 2 announce I'll be HOSTING Saturday Night Live Dec. 10! This is the cherry on top and @robynkonichiwa is part of it!"
This will be Katy Perry's first time hosting SNL, but her second time appearing on the show. She was once on SNL as the musical guest, where she sang Teenage Dream and California Gurls. She also appeared in a skit where she poked fun at her cleavage debacle on Sesame Street.
Will you be tuning in on December 10 to watch Ms. Perry hosting SNL? Comment below and tell us what you think!

Source: Insidetv.ew.com
Ad blocker interference detected!
Wikia is a free-to-use site that makes money from advertising. We have a modified experience for viewers using ad blockers

Wikia is not accessible if you've made further modifications. Remove the custom ad blocker rule(s) and the page will load as expected.