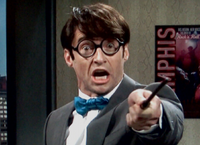 Who knew X Men star Hugh Jackman could be so funny? On the latest episode of Saturday Night Live, Jackman impersonated Daniel Radcliffe playing Harry Potter, in a skit about stars who have both feminine and masculine sides.
The skit was hosted by funny man Andy Samberg, who was impersonating Hugh Jackman himself, sporting the notorious exaggerated sideburns of the X-men character, Wolverine.
So, does this skit have you rolling on the floor laughing, or doing your best to force a chortle? Comment below and tell us what you think!

Source: opposingviews.com
Ad blocker interference detected!
Wikia is a free-to-use site that makes money from advertising. We have a modified experience for viewers using ad blockers

Wikia is not accessible if you've made further modifications. Remove the custom ad blocker rule(s) and the page will load as expected.