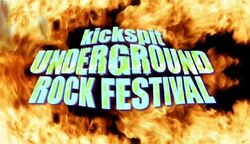 Underground Rock Minute, or the kickspit Underground Rock Festival (names of sketches differ, see below), is a filmed commercial sketch on Saturday Night Live about an underground harcore rock/rap festival, hosted by public figures D.J. Supersoak (played by Jason Sudeikis) and Lil' Blaster (played by Nasim Pedrad). Occasionally they bring in another host, MC George Costanza (played by Jay Pharoah). They also often commemorate their repeatedly deceased friend, Ass Dan, who appears to have been the patriarch of the Underground Rock Festival.
A running gag in this skit is the band, Mrs. Potato Dick, which has played at every underground rock festival.
Appearances
Edit
December 5, 2009 (as "kickspit Underground Rock Festival")
March 13, 2010 (as "kickspit Underground Rock Festival") [repeat of December 5, 2009 appearance]
April 17, 2010 (as "Underground Rock Minute")
December 18, 2010 (as "Crunkmas Karnival!")
April 10, 2011 (as "Crunk-Ass Easter Festival")
October 8, 2011 (as "Columbus Day Assblast")
October 21, 2012 (as "Donkey Punch The Ballot!")
Ad blocker interference detected!
Wikia is a free-to-use site that makes money from advertising. We have a modified experience for viewers using ad blockers

Wikia is not accessible if you've made further modifications. Remove the custom ad blocker rule(s) and the page will load as expected.