Tina Fey
Talk

0
1,081pages on
this wiki
Tina Fey
Date of Birth:
May 18, 1970
Years on SNL:
As Cast Member:
2000-2006 (1997-2000 behind the scenes)
As Host:
February 23, 2008
April 10, 2010
May 7, 2011
September 28, 2013
Cameos:
November 11, 2006
April 5, 2008
September 13, 2008
November 27, 2008
October 4, 2008
October 18, 2008
October 23, 2008
November 1, 2008
March 14, 2009
May 8, 2010
September 25, 2010
May 7, 2011
December 17, 2011
December 15, 2012
Tina Fey
(born May 18, 1970) is an American actress, comedian, and former castmember of Saturday Night Live. During her tenure on the show, she was co-anchor of
Weekend Update
as well as the show's head writer. Because of this, she rarely appeared in any sketches. She returned to host 3 times the first being on February 23, 2008, the second being on April 10, 2010 and the third and most recent time being on May 7, 2011.
Impressions/Characters
Edit
Impressions
Edit
Characters
Edit
Bedelia's Mother
Misty Peppers
Rialto Grande Cocktail Waitress
Space Lesbian
Personal Life
Edit
SNL Career
Edit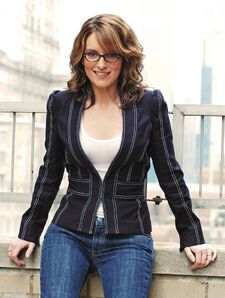 1997-2000: Writer
2000-2006: Head Writer
2000-2001: Featured Player
2001-2006: Repertory Player
October 22, 2005-May 20, 2006: Repertory Player
February 23, 2008: Host
April 10, 2010: Host
May 7,  2011:  Host
December 15, 2012: Cameo
September 28, 2013: Host
She is left handed.
It had been considered by fans she should be impersonated in the future. As Fey & Jimmy Fallon were dual anchors in Weekend Update for four seasons. On his hosted episode, Fallon was impersonated by Andy Samberg as his mirror side during the "Dressing Room" sketch.