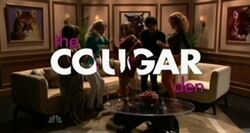 The Cougar Den is a recurring sketch on Saturday Night Live which involves Deidre Nicks (played by Amy Poehler), Jacqueline Seka (played by Kristen Wiig) and Toni Ward (played by Casey Wilson) hosting a talk show for "cougars," older women who date younger men. The sketch also features a stage director named Kenneth (played by Kenan Thompson) who is "straight" and is not at all impressed by the "cougars" and Kiki Deamore (played by Cameron Diaz), the show's most frequent guest.
Appearances
Edit
Ad blocker interference detected!
Wikia is a free-to-use site that makes money from advertising. We have a modified experience for viewers using ad blockers

Wikia is not accessible if you've made further modifications. Remove the custom ad blocker rule(s) and the page will load as expected.