Stephen King (born September 21, 1947) is an American author of contemporary horror, suspense, science fiction and fantasy whose books have sold more than 350 million copies and have been adapted into a number of feature films, television movies and comic books. Although he has never been on Saturday Night Live, he has been impersonated by Jon Lovitz on December 12, 1987 during the Weekend Update segment and by Bill Hader on February 18, 2012 during the "Maya Angelou's: I Know Why the Caged Bird Laughs!" filmed commercial sketch.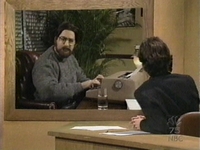 Ad blocker interference detected!
Wikia is a free-to-use site that makes money from advertising. We have a modified experience for viewers using ad blockers

Wikia is not accessible if you've made further modifications. Remove the custom ad blocker rule(s) and the page will load as expected.