Stephen A. Smith (born October 14, 1967) is an American sports journalist, talk show host and television personality best known for being the host of The Stephen A. Smith and Ryan Ruocco Show on ESPN Radio New York 98.7FM and for being a regular on the ESPN morning sports talk program ESPN First Take. Although he has never been on Saturday Night Live, he has been impersonated by Finesse Mitchell on October 29, 2005 during the "Celebrity Ironman" sketch and by Jay Pharoah on September 22, 2012 and on February 16, 2013, both during the Weekend Update segment.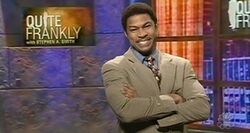 Ad blocker interference detected!
Wikia is a free-to-use site that makes money from advertising. We have a modified experience for viewers using ad blockers

Wikia is not accessible if you've made further modifications. Remove the custom ad blocker rule(s) and the page will load as expected.