Siobhan Fallon Hogan
Date of Birth:
May 13, 1961
Years on SNL:
As Featured Cast Member:
1991-1992
Siobhan Fallon Hogan (born May 13, 1961) is an American actress. The redheaded character actress has had many memorable roles in films such as Men in Black, Forrest Gump, The Negotiator, and Daddy Day Care. She was one of the featured cast members of Saturday Night Live in the 17th Season from 1991 to 1992. She left the show due to concerns the material conflicted with her religious beliefs.[1]
Characters/Impressions
Edit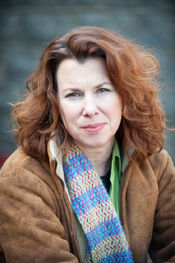 Characters
Edit
Impressions
Edit
SNL Career
Edit
1991-1992: Feature Player
References
Edit
Ad blocker interference detected!
Wikia is a free-to-use site that makes money from advertising. We have a modified experience for viewers using ad blockers

Wikia is not accessible if you've made further modifications. Remove the custom ad blocker rule(s) and the page will load as expected.