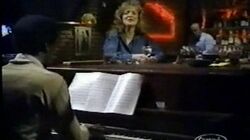 Single Women is a song, written by Saturday Night Live writer Michael O'Donoghue. The song, which depicted a number of women looking for love in a singles bar was originally performed during an SNL sketch by Christine Ebersole on the October 10, 1981 broadcast. The song later provided a top-ten country hit for Dolly Parton from her 1982 Heartbreak Express album. Released as the album's first single in February 1982, it reached number 8 on the U.S. country singles chart in April 1982.[1] The song later inspired a 1984 TV movie starring Tony Danza and Jean Smart, which was produced by O'Donoghue. An abbreviated version of Parton's recording of the song was used as the movie's theme song.
Chart performance
Edit
Chart (1982)
Peak
position
U.S. Billboard Hot Country Singles
8
Canadian RPM Country Tracks
1
References
Edit
↑ Joel Whitburn, 2004. The Billboard Book Of Top 40 Country Hits: 1944-2006 Second edition. Record Research. Page 262
External links
Edit
This page includes content from the English-language Wikipedia article
Single Women
. Wikipedia content is licensed under the
GNU Free Documentation License
which requires credit be given to all contributors;
click here
to be taken to the Wikipedia version's edit history.