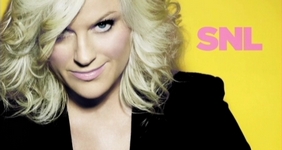 The 681st episode of Saturday Night Live was hosted by former Saturday Night Live cast member Amy Poehler. Katy Perry was the musical guest.
Bosley Hair Restoration- This skit advertised using pubic hair to replace thinning hair on the head.
Maternity Matters- This skit is a parody of a typical maternity-oriented show in which the friendly female host is out for the day and guests must ask questions to the rude producer, played by Fred Armisen.
Mosque at Ground Zero- This was a commercial displaying a Republican's worst nightmare of an extremely liberal mosque at ground zero in which gay people could get married.
Ladies Who Lunch, a skit about which rich lady has the tiniest hat
Musical performance by Katy Perry, "Teenage Dream"
The Unwatchables Commercial
Ad blocker interference detected!
Wikia is a free-to-use site that makes money from advertising. We have a modified experience for viewers using ad blockers

Wikia is not accessible if you've made further modifications. Remove the custom ad blocker rule(s) and the page will load as expected.