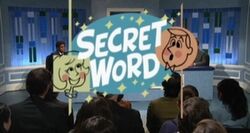 Secret Word is a skit on Saturday Night Live that stars Bill Hader as Lyle Round, an old-fashioned game show host of the show, "Secret Word," in which two contestants must guess hidden words based on clues from their celebrity partners and is identical to the game, "Password." One of his contestants is always Broadway star and washed-up actress, Mindy Gracin, played by Kristen Wiig. Mindy is overly dramatic and whenever she tries to describe the secret word, she immediately says the word, using the excuse that she's an actress and she reads what's in front of her.
For the November 19 2016 episode, Grant Choad (Kenan Thompson) replaced Round as host; a "telephone message" by Round explained that he'd retired, and said Choad is the "first ever black game show host" because he auditioned over the phone.
Appearances
Edit
These are the partners of both Mindy and the guest.
These are the secret words in each episode (bold text means that letter was covered up when it was first read)

November 21, 2009 - Crab, Drape, Juice
March 13, 2010 - Gown, Vodka, Theater, Cake
October 9, 2010 - Shrimp, Flat, Fringe, Cook
January 15, 2011 - Grab, Cream, Soup
May 21, 2011 - Boot (Mindy thought it was 800-T), Grape, Cramp
November 12, 2011 - Honk, Cloud, Thorny
February 4, 2012 - Cramp, Probe, Weiner
May 19, 2012 - Canal, Soft, Jelly

Some episodes had products mentioned at the end of the sketch

November 21, 2009 - Paul Maul's Cigarette Flavored Gum
March 13, 2010 - Career Girl Cigarettes
January 15, 2011 - Johnson & Johnson Baby Cages
November 12, 2011 - Ajak Baby Wipes
February 4, 2012 - Wife Nyquil
Ad blocker interference detected!
Wikia is a free-to-use site that makes money from advertising. We have a modified experience for viewers using ad blockers

Wikia is not accessible if you've made further modifications. Remove the custom ad blocker rule(s) and the page will load as expected.