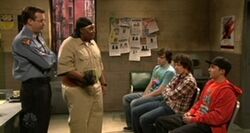 Scared Straight is a recurring sketch on Saturday Night Live where city police chief, Officer Sikorsky (played by Jason Sudeikis), uses some of his hardened criminals (played by Kenan Thompson and often the show's host) to try and scare some small-time petty thieves away from harder crimes. However, the criminals repeatedly go "over the line" about how the kids will become victims in jail, all the while, recounting their stories as thugs, usually stolen directly from well-known plot-lines from famous films (such as The Wizard of Oz, Willy Wonka & the Chocolate Factory, Weekend at Bernie's and The Goonies), all the while representing that "this is real." The sketch always ends as one or more of the cast members seemingly break character by laughing. Featured "prisoner adocates" have included Taylor Swift (as Skeet Devlin) and Betty White (as Loretta MacIntosh), with Kenan Thompson (as Lorenzo "Mack Attack" MacIntosh) being a recurring character.
Appearances
Edit
Ad blocker interference detected!
Wikia is a free-to-use site that makes money from advertising. We have a modified experience for viewers using ad blockers

Wikia is not accessible if you've made further modifications. Remove the custom ad blocker rule(s) and the page will load as expected.