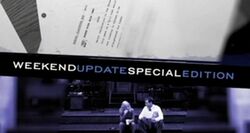 Weekend Update Summer Edition is a Weekend Update-only spinoff of Saturday Night Live, airing Thursday nights during the summer off-season. For its first three seasons, it was known as Saturday Night Live: Weekend Update Thursday, and aired during the regular SNL season. The series premiered on October 10, 2008.
The normal cast does perform, and the montage is the same as the normal show, except with no host, or monologue and musical guest, and goes right to Weekend Update. Most episodes featured a cold-open sketch, though this was dropped for the first two episodes of the fourth season.
Season 1 (2008)
Edit
As "Weekend Update Thursday," with anchors Amy Poehler and Seth Meyers
October 9, 2008
October 16, 2008
October 23, 2008
Season 2 (2009)
Edit
While not a cast member, Amy Poehler joined Seth Meyers as anchor for the first two episodes. Meyers alone anchored for the October episode.
September 17, 2009
September 24, 2009
October 1, 2009
Season 3 (2012)
Edit
With anchor Seth Meyers
September 20, 2012
September 27, 2012
Season 4 (2017)
Edit
As "Weekend Update Summer Edition," with hosts Colin Jost and Michael Che
Ad blocker interference detected!
Wikia is a free-to-use site that makes money from advertising. We have a modified experience for viewers using ad blockers

Wikia is not accessible if you've made further modifications. Remove the custom ad blocker rule(s) and the page will load as expected.