SNL Films is a production company mainly responsible for the NBC late night series Saturday Night Live.
It is a joint venture of Lorne Michaels' Broadway Video, Classic Media, and NBC.
In addition to Saturday Night Live, SNL Films has also produced film versions of some of SNL's sketches, such as Superstar and Stuart Saves His Family (both through Paramount Pictures).
They have also produced independent short films for occasional use on SNL.
Films based on SNL sketches
Edit
The early days of SNL spawned a few movies and low-budget films. However, it wasn't until the huge success of Wayne's World that Broadway Video (Lorne Michaels' production company) became encouraged to feature more film spinoffs, with several popular 1990s sketch characters (and a few unlikely ones) becoming adapted into movies. Producers tried their luck with a revival of 1970s characters The Coneheads, followed by movies based around Pat, Stuart Smalley, The Ladies Man, The Butabi Brothers and Mary Katherine Gallagher. Some did moderate business but others bombed disastrously — notably It's Pat and Stuart Saves His Family, with the latter losing US$15 million despite good reviews.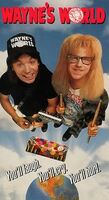 Mr. Bill's Real Life Adventures (1986)
Bob Roberts (1992)
Mr. Saturday Night (1992)
Wayne's World (Film) (1992)
Wayne's World 2 (1993)
Coneheads (1993)
It's Pat! (1994)
Stuart Saves His Family (1995)
A Night at the Roxbury (1998)
Blues Brothers 2000 (1998)
Office Space (1999)
Superstar(1999)
The Ladies Man (2000)
Ad blocker interference detected!
Wikia is a free-to-use site that makes money from advertising. We have a modified experience for viewers using ad blockers

Wikia is not accessible if you've made further modifications. Remove the custom ad blocker rule(s) and the page will load as expected.