Ricky Gervais (born June 25, 1961) is an English comedian, actor, director, producer, musician, writer and former radio presenter best known for creating the BBC sitcom The Office where he played David Brent from 2001 to 2003 and the BBC sitcom Extras where he played Andy Millman from 2005 to 2007, both of which he co-wrote and co-directed with Stephen Merchant. He is also well-known for hosting the Golden Globe Awards since 2010. On Saturday Night Live, he has been impersonated by Jason Sudeikis on January 17, 2009 during "The View" sketch, on November 19, 2011 during the "Kelly Auditions" sketch and on January 14, 2012 during the "Golden Globe Awards" sketch. Gervais himself also made a cameo on May 17, 2008 during the SNL Digital Short.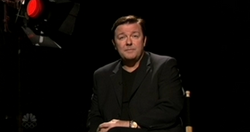 Ad blocker interference detected!
Wikia is a free-to-use site that makes money from advertising. We have a modified experience for viewers using ad blockers

Wikia is not accessible if you've made further modifications. Remove the custom ad blocker rule(s) and the page will load as expected.