Richard Dreyfuss
Born:
October 29, 1947
Time on SNL:
As Host:
May 13, 1978
Impersonated:
March 16, 1996
May 11, 1996
November 2, 1996
January 11, 1997
November 22, 1997 (voice only)
Richard Dreyfuss (born October 29, 1947) is an American actor best known for his roles as Curt Henderson in the 1973 coming of age film American Graffiti, Matt Hooper in the 1975 horror/thriller film Jaws, Roy Neary in the 1977 science fiction-drama film Close Encounters of the Third Kind and Elliot Garfield in the 1977 romantic comedy-drama film The Goodbye Girl. He hosted Saturday Night Live on May 13, 1978.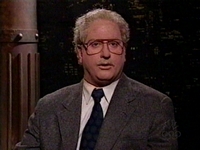 He was also impersonated by
Darrell Hammond
seven times from March 16, 1996 to November 22, 1997 (where he voiced Dreyfuss in the "Friggin' Giuliani!" sketch).
Ad blocker interference detected!
Wikia is a free-to-use site that makes money from advertising. We have a modified experience for viewers using ad blockers

Wikia is not accessible if you've made further modifications. Remove the custom ad blocker rule(s) and the page will load as expected.