Rachel Maddow (born April 1, 1973) is an American television host, political commentator and author best known for being the host of the MSNBC daily news and opinion television program The Rachel Maddow Show and the syndicated weekday radio show of the same name on Air America Radio. She was also the first openly gay anchor of a prime-time news program in the United States. Although she has never been on Saturday Night Live, she has been impersonated by Abby Elliott four times from January 10, 2009 to May 21, 2011 and by Cecily Strong on October 6, 2012 during the "Three Days Later: A Look Back At The Obama Debate Disaster" sketch.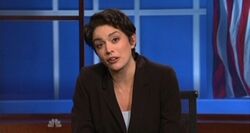 Ad blocker interference detected!
Wikia is a free-to-use site that makes money from advertising. We have a modified experience for viewers using ad blockers

Wikia is not accessible if you've made further modifications. Remove the custom ad blocker rule(s) and the page will load as expected.