Park Jae-sang (Hangul: 박재상; born December 31, 1977), better known by his stage name Psy (Hangul: 싸이, often stylized as PSY), is a South Korean singer-songwriter, rapper, dance musician and record producer best known for his single "Gangnam Style," which the music video is currently the most viewed K-pop video on YouTube. On Saturday Night Live, he has been impersonated by Bobby Moynihan on September 15, 2012 during the "Lids" sketch where Psy himself also made a cameo.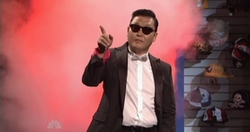 Ad blocker interference detected!
Wikia is a free-to-use site that makes money from advertising. We have a modified experience for viewers using ad blockers

Wikia is not accessible if you've made further modifications. Remove the custom ad blocker rule(s) and the page will load as expected.