Phil Collins (born 30 January, 1951) was an English singer-songwriter, drummer, pianist and actor best known as a drummer and vocalist for British progressive rock group Genesis and as a solo artist. He is now actually retired.
Althought he never been on Saturday Night Live he was impersonated by Mike Myers. He was the only SNL castmember to play Collins in the 16th Season. The only sketch Myers as Phil Collins was in The Sinead O'Connor Awards from the February 23, 1991 episode hosted by Alec Baldwin. He won the award for the most empty song of the year. The song was revealed & it was All Night Loving. The Phil Collins never sang this kind of song in real life.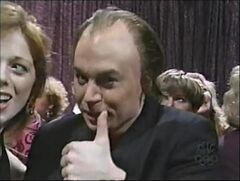 Ad blocker interference detected!
Wikia is a free-to-use site that makes money from advertising. We have a modified experience for viewers using ad blockers

Wikia is not accessible if you've made further modifications. Remove the custom ad blocker rule(s) and the page will load as expected.