Pamela Stephenson
Date of Birth:
December 4, 1949
Years on SNL:
1984-1985
Pamela Helen Stephenson Connolly (born December 4, 1949) is a New Zealand-born, Australian clinical psychologist, writer, and actress who is now a resident in both the United Kingdom and United States. She is best known for her work as an actress and comedian during the 1980s. She was a cast member of SNL during season 10. Prior to her casting with SNL, Stephenson was seen in the 1983 film Superman III as the mistress to the film's villain, who attempts to seduce Superman as well. Following her departure from SNL, Stephenson married Scottish comedian Billy Connolly.
Characters/Impressions
Edit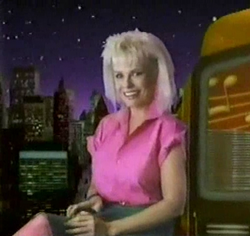 Characters
Edit
Impressions
Edit
Ad blocker interference detected!
Wikia is a free-to-use site that makes money from advertising. We have a modified experience for viewers using ad blockers

Wikia is not accessible if you've made further modifications. Remove the custom ad blocker rule(s) and the page will load as expected.