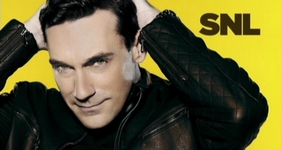 Jon Hamm hosted the October 30, 2010 episode of Saturday Night Live. the musical guest was Rihanna.
A Message from the Vice President cold open
SNL Digital Short, Ronnie and Clyde, in which Rihanna stages a "bank robbery" music video, with her partner, Shy Ronnie, who is too shy to audibly rap.
Vincent Price's Halloween Special
Back to the Future 25th Anniversary DVD Commercial
Rihanna performs "What's My Name?"
I Didn't Ask For This, a show in which stars of unintentional "viral videos" lament their fame.
Rihanna performs "Only Girl in the World"
American America, Dog in Purse
Ad blocker interference detected!
Wikia is a free-to-use site that makes money from advertising. We have a modified experience for viewers using ad blockers

Wikia is not accessible if you've made further modifications. Remove the custom ad blocker rule(s) and the page will load as expected.