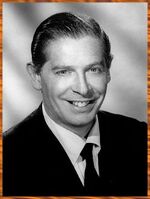 On April 14, 1979, Berle guest-hosted NBC's Saturday Night Live. Berle's long reputation for taking control of an entire television production—whether invited to do so or not—was a cause of stress on the set. One of the show's writers, Rosie Shuster, described the rehearsals for the Berle SNL show and the telecast as "watching a comedy train accident in slow motion on a loop." Upstaging, camera mugging, inserting old comedy bits, and climaxing the show with a maudlin performance of "September Song" complete with pre-arranged standing ovation (something producer Lorne Michaels had never sanctioned), resulted in Berle being banned from the show.
SNL Career
Edit
April/14/1979: Host (Banned)
Ad blocker interference detected!
Wikia is a free-to-use site that makes money from advertising. We have a modified experience for viewers using ad blockers

Wikia is not accessible if you've made further modifications. Remove the custom ad blocker rule(s) and the page will load as expected.