Michael Bloomberg (born February 14, 1942) is an American businessman and politician who is the 108th and current Mayor of New York City since 2002. Although he has never been on Saturday Night Live, he has been impersonated by Chris Kattan on November 10, 2001 during the Weekend Update segment and by Fred Armisen five times from January 8, 2011 to May 4, 2013.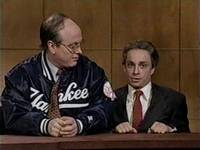 Ad blocker interference detected!
Wikia is a free-to-use site that makes money from advertising. We have a modified experience for viewers using ad blockers

Wikia is not accessible if you've made further modifications. Remove the custom ad blocker rule(s) and the page will load as expected.