Mayim Bialik (born December 12, 1975) is an American actress best known for her roles as Blossom Ruby Russo on the NBC sitcom Blossom from 1991 to 1995 and currently stars as Dr. Amy Farrah Fowler on the CBS sitcom The Big Bang Theory. Although she has never been on Saturday Night Live, she has been impersonated by Melanie Hutsell on January 15, 1994 during the "Blossom" sketch and by Andy Samberg on April 7, 2012 during the "Bein' Quirky with Zooey Deschanel" sketch.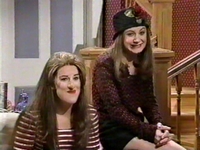 Ad blocker interference detected!
Wikia is a free-to-use site that makes money from advertising. We have a modified experience for viewers using ad blockers

Wikia is not accessible if you've made further modifications. Remove the custom ad blocker rule(s) and the page will load as expected.