Mark Zuckerberg
Air Date(s):
October 9, 2010
December 18, 2010
January 29, 2011 (both impersonated and cameo himself)
Impersonator(s):
Andy Samberg
Mark Zuckerberg (born May 14, 1984) is an American computer programmer and Internet entrepreneur best known as one of five co-founders of the social networking site Facebook, where he is also the chairman and chief executive officer (CEO). On Saturday Night Live, he has been impersonated by Andy Samberg on October 9, 2010 during the Weekend Update segment, on December 18, 2010 during the "A Message from Mark Zuckerberg" miscellaneous sketch and on January 29, 2011 during the opening monologue where the real Zuckerberg also made a cameo appearance.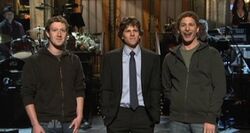 Ad blocker interference detected!
Wikia is a free-to-use site that makes money from advertising. We have a modified experience for viewers using ad blockers

Wikia is not accessible if you've made further modifications. Remove the custom ad blocker rule(s) and the page will load as expected.