Mariah Carey
Born:
March 27, 1970
Time on SNL:
As Musical Guest:
October 27, 1990
November 16, 1991
November 15, 1997
March 15, 2008
Impersonated:
March 7, 1998
May 2, 1998
December 5, 1998
December 4, 1999
Mariah Carey (born March 27, 1970) is an American singer, songwriter, record producer and actress best known for her roles as Billie Frank in the 2001 romantic musical drama film Glitter and as Ms. Weiss in the 2009 drama film Precious.
She appeared on Saturday Night Live as a musical guest four times. The first time was on October 27, 1990 where she performed "Vision of Love" and "Vanishing," the second time was on November 16, 1991 where she performed "Can't Let Go" and "If It's Over," the third time was on November 15, 1997 where she performed "Butterfly" and "My All" and the fourth time was on March 15, 2008 where she performed "Touch My Body" and "Migrate" (where T-Pain later joined her).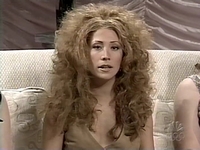 She was also impersonated by
Cheri Oteri
on the March 7, 1998 and May 2, 1998 episodes, both during the "The Celine Dion Show" sketch, and on the December 5, 1998 and December 4, 1999 episodes, during the "Impeachment Hearings" sketch and the "And So This Is Chanukah" sketch, respectively.
Ad blocker interference detected!
Wikia is a free-to-use site that makes money from advertising. We have a modified experience for viewers using ad blockers

Wikia is not accessible if you've made further modifications. Remove the custom ad blocker rule(s) and the page will load as expected.