June
Talk

0
1,097pages on
this wiki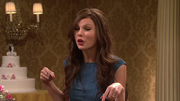 June is a character played by Taylor Swift. She has brown hair and a blue dress 
She currently appeared at the "Penelope : Man and Wife" Sketch.
Holds a golden sparkly purse
Really? National Penelope Day?
The motnth of june was actually named after me
When i close my eyes real tight i can watch toy story on my eyelids
All this horseblinders! Really?
Do not come with us!
What do you have to say about that, Penelope?