Florence + the Machine
Members:
Florence Welch
Robert Ackroyd
Christopher Lloyd Hayden
Isabella Summers
Tom Monger
Mark Saunders
Rusty Bradshaw
Time on SNL:
As Musical Guest:
November 20, 2010
November 19, 2011
Impersonated:
December 10, 2011 (Welch only)
Florence and the Machine (stylized as Florence + the Machine) is an English indie rock band from London, England consisting of Florence Welch (born August 28, 1986), Isabella "Machine" Summers (born October 31, 1980) and a collaboration of artists who provide backing music (including Robert Ackroyd, Christopher Lloyd Hayden, Tom Monger, Mark Saunders and Rusty Bradshaw). They appeared on Saturday Night Live as a musical guest on November 20, 2010 where they performed "Dog Days Are Over" and "You Got the Love" and on November 19, 2011 where they performed "Shake It Out" and "No Light, No Light" with Florence Welch also appearing as Flow Diggity Flow Doubt in the "New Jack Thanksgiving" sketch and as the patron in the "The Blue Jean Committee" sketch.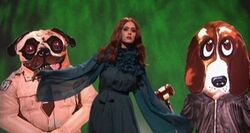 Florence Welch was also impersonated by
Katy Perry
on the
December 10, 2011
episode during the "Doggie Duty" sketch.
Ad blocker interference detected!
Wikia is a free-to-use site that makes money from advertising. We have a modified experience for viewers using ad blockers

Wikia is not accessible if you've made further modifications. Remove the custom ad blocker rule(s) and the page will load as expected.