Brad Hall
Date of Birth:
March 21, 1958
Years on SNL:
1982-1984
William Brad Hall (born March 21, 1958) is an American writer, actor, and director, best known as a Saturday Night Live news anchor on Saturday Night News. He was also the creator of the TV series The Single Guy and Watching Ellie. He has appeared in various motion pictures, most notably the 1986 cult classic Troll and as Nancy Allen's boyfriend in 1990's Limit Up. He is married to Julia Louis-Dreyfus.
Characters/Impressions
Edit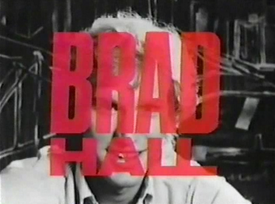 Characters
Edit
The Human Stapler
Larry Rolans
Mike Phillips
Impressions
Edit
Ad blocker interference detected!
Wikia is a free-to-use site that makes money from advertising. We have a modified experience for viewers using ad blockers

Wikia is not accessible if you've made further modifications. Remove the custom ad blocker rule(s) and the page will load as expected.