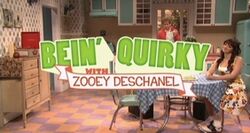 Bein' Quirky with Zooey Deschanel is a recurring sketch on Saturday Night Live which involves Zooey Deschanel (played by Abby Elliott) hosting a talk show from her kitchen. Her sidekick is Michael Cera (played by Taran Killam). The theme of the talk show is to interview "quirky girls," a trait which Deschanel herself is stated, within the sketches, to exemplify. Zooey and her guests have pointed to Mayim Bialik (played by Andy Samberg) and Björk (played by Kristen Wiig) as exceptionally quirky girls that they look up to as role models.
Ad blocker interference detected!
Wikia is a free-to-use site that makes money from advertising. We have a modified experience for viewers using ad blockers

Wikia is not accessible if you've made further modifications. Remove the custom ad blocker rule(s) and the page will load as expected.