Avril Lavigne
Born:
September 27, 1984
Time on SNL:
As Musical Guest:
January 11, 2003
May 8, 2004
April 14, 2007
Impersonated:
March 15, 2003
May 1, 2004
Avril Ramona Lavigne (born September 27, 1984) is a Canadian singer-songwriter. She appeared on Saturday Night Live as a musical guest thrice. The first time was on January 11, 2003 where she performed "I'm with You" and "Complicated," the second time was on May 8, 2004 where she performed "Don't Tell Me" and "Happy Ending" and the third time was on April 14, 2007 where she performed "Girlfriend" and "I Can Do Better" and appeared in the "The Dakota Fanning Show" sketch as Elle Fanning.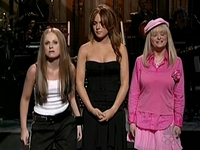 She was also impersonated by Amy Poehler in the March 15, 2003 episode during the Weekend Update segment and in the May 1, 2004 episode during the opening monologue.
Impressions
Edit
Ad blocker interference detected!
Wikia is a free-to-use site that makes money from advertising. We have a modified experience for viewers using ad blockers

Wikia is not accessible if you've made further modifications. Remove the custom ad blocker rule(s) and the page will load as expected.