Ann Davies-Romney (born April 16, 1949) is the wife of American businessman and politician Mitt Romney, who was the Republican nominee for President of the United States in the 2012 U.S. presidential election. She was also the First Lady of Massachusetts while her husband served as governor of the state from 2003 to 2007.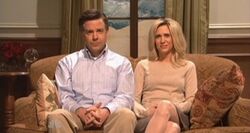 Although she has never been on
Saturday Night Live
, she has been impersonated by
Kristen Wiig
on
March 3, 2012
during the "Fox Report" cold opening sketch and on
April 7, 2012
during the "Road to the White House" cold opening sketch and by
Kate McKinnon
on the September 20, 2012
Weekend Update Thursday
special during the "Fox and Friends" cold opening sketch, on
September 22, 2012
and
May 18, 2013
, both during the
Weekend Update
segment, and on
November 10, 2012
during the "Election Night" cold opening sketch.
Ad blocker interference detected!
Wikia is a free-to-use site that makes money from advertising. We have a modified experience for viewers using ad blockers

Wikia is not accessible if you've made further modifications. Remove the custom ad blocker rule(s) and the page will load as expected.