Anderson Cooper (born June 3, 1967) is an American journalist, author and television personality best known for being the primary anchor of the CNN television news show Anderson Cooper 360° and for being the host of the first-run syndicated talk show Anderson Live. On Saturday Night Live, he has been impersonated by Seth Meyers four times from October 1, 2005 to May 20, 2006, which were all during the "Anderson Cooper 360" sketch, and Cooper himself made cameos on January 15, 2011 during the SNL Digital Short and on May 18, 2013 during the Weekend Update segment.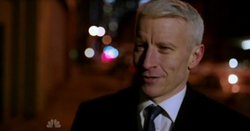 Ad blocker interference detected!
Wikia is a free-to-use site that makes money from advertising. We have a modified experience for viewers using ad blockers

Wikia is not accessible if you've made further modifications. Remove the custom ad blocker rule(s) and the page will load as expected.