Ad blocker interference detected!
Wikia is a free-to-use site that makes money from advertising. We have a modified experience for viewers using ad blockers

Wikia is not accessible if you've made further modifications. Remove the custom ad blocker rule(s) and the page will load as expected.
Al Franken
Date of Birth:
May 21, 1951
Years on SNL:
As Cast Member:
1977-1980
1985-1986
1988-1995
Cameos:
April 11, 1981
December 11, 1999
December 14, 2002
January 10, 2004
Impersonated:
October 11, 2003
Impersonated by:
Jeff Richards
Alan Stuart Franken
(born May 21, 1951 in New York City) is an American comedian, actor, author, screenwriter, political commentator and radio host, noted for his work on Saturday Night Live and liberal socio-political views.
Franken first achieved national prominence on Saturday Night Live as the writing and performing partner of Tom Davis, usually on the sketch, "Franken & Davis ". His more recent career accomplishments are politically oriented, authoring books such as Rush Limbaugh is a Big Fat Idiot and Other Observations and serving as host of the flagship program from the liberal Air America Radio network. He is currently considering running for the United States Senate as a Democrat, representing Minnesota, and in 2005 he established Midwest Values PAC to lay the groundwork for that possible campaign.
He was the subject of a 2006 documentary film entitled Al Franken: God Spoke [1]. It had its premiere in April of 2006 at the Tribeca Film Festival in New York City and was released nationally on September 13th.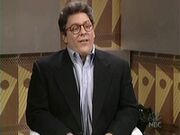 Characters/Impressions
Edit
Characters
Edit
Impressions
Edit